About ARK
Development of electronic video games for play on the home computers was an excitement for the game enthusiasts and many games in diverse genre developed and progressed. Many dedicated servers supported the array of games and created big network of players on their web servers. Ark Servers are the supporter of Survival Evolved, styled as ARK, that offer a vast variety of configuration selections that actually manage many aspects of the game and control the game behavior and are set at start up level of the server. The game takes players in an open world environment and offers a package of action-adventure entertainment.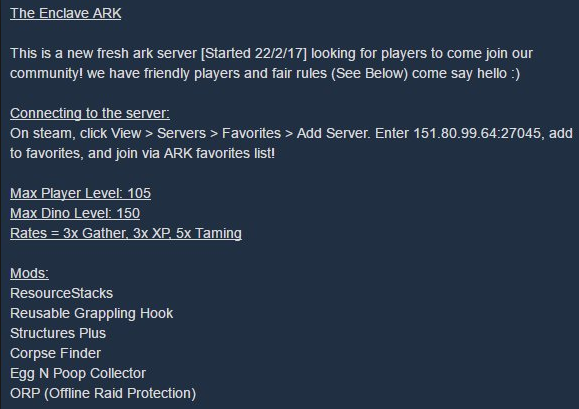 Advantage of game Modes
ARK is for lone play and multiplayers with several different supported modes – Player vs Player, Player vs environment, Hardcore, Extinction, Primitive and the special mode called Survival of the Fittest. Only single player mode allows offline play. Players have fun to play in different modes and commands for switch over from one to another mode are available in the server admin.
Server failure
Ark servers failed and the game crashed for many players that caused disappointment among crazy fans. The game that was developed more with excitement gave a jolt to the players as well as developers, but there might be some drawbacks in the fundamentals of the game. The game is now controversial and the developers are finding an apt solution to refine the issues. Survival Evolved is a real fantasy of prehistoric real-world thrill but is disappointing. Overcrowding on Ark servers is a critical issue and Wildcard, the game developers have wiped many servers, but issue is yet to be resolved to the satisfaction of potential players. Wildcard has assured the early resolution.
Will it be a success?
Survival Evolved is a unique entertainment in video gaming offering good features, but a failure has hindered the success of this innovation. No doubt, the technology experts will find the apt solution and ARK will lead in the gaming world.